Niveda Arora comes from Delhi. She has been a trained Yoga instructor with 5 years of long teaching experiences to various Yoga teacher training courses across different states of India and abroad. In this men dominated field of work she is a praiseworthy woman proving her presence with effective self practice and teaching.


Academically Niveda is a bachelor in arts from Delhi University where she studied History and Political Science. Later she studied Graphic Designing and worked for sometime as a Graphic Designer. It was in these years that she felt drawn towards Yoga. She quit her job and studied Post Graduation diploma in Yogic Science from Kaivalya Dham Pune.
After the completion of her Yoga study she moved to Dubai for sometime for teaching Yoga which was a stepping stone into her successful Yoga career. She returned from Dubai and started teaching Yoga in Goa. In Goa she taught Yoga at several places to people from all parts of the world coming for Yoga Retreats. Her classes were loved by people from all age group. She spent considerable long time in Goa receiving lots of success and experience for her future endeavour.
For the last 2 years Niveda has been in Rishikesh teaching at various Yoga Schools to students coming for Yoga Teacher Training from all parts of the world. In Yoga teaching her interests are Hatha, Vinyasa and Anatomy lectures. Her classes are easy, clear, effective and informative that bring to her deeper admiration from the students she teaches. Though full time busy with Yoga teaching, Niveda is pursuing her Master in Yoga from Uttarakhand University that shows her studentship still receiving knowledge that she continues to pass on to her students in abundance.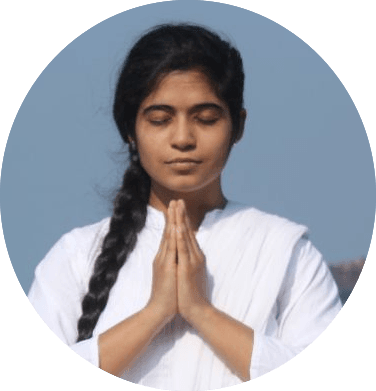 Neha was born and raised-up in Haridwar, Uttarakhand. She was introduced to Yoga in her childhood while reading Srimad Bhagavad Gita. It brought a deep influence in her childhood psyche. Since then she has been naturally attracted towards the practice of Yoga, Pranayama and Meditation.
 After completing her graduation, she decided to build her career in Yoga. She completed her M.A in Yoga and science from Uttarakhand Sanskrit University. She also did PGDM in Yoga and science from University of Patanjali Yogpeeth, Haridwar. Eventually she completed her Ph.D. in Yoga and science of Living, from Jain Vishva Bharti University, Ladnun, Rajasthan. This is how she resumed her professional education in the field of Yoga.
Later she began to profess Yoga. She worked with the central government of India to teach Yoga in rural villages of Rajasthan, India. She received many opportunities owing to her deep study and credentials. She worked as a Yoga instructor for various institutions during her studies as well. Neha is a highly qualified teacher and has surprisingly plenty of accomplishments to her name in a pretty short span of time. Neha is an expert teacher of Asana, Pranayama, Anatomy & Physiology, and Meditation. She always looks for the growth of her students. She motivates them to go beyond their physical limits so that they can experience a healthier approach towards life.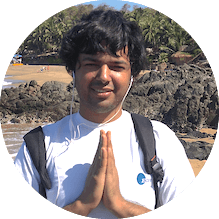 Dr. Himanshu Sharma is a highly qualified Yoga teacher with a Ph. D. (Karma Yoga) in Yogic Science. Hugely inspired by the teachings of Srimada Bhagavada Gita, Himanshu has been living his life with discipline and dedication, directed towards evolution. He is a very famous Yoga teacher in Rishikesh. He  has conducted various Yoga programs, workshops and camps for people in general. By virtue of his talent and depth of study, he has been a faculty person at many reputed Yoga institutions over the past 9 years. With his cheerful presence, Himanshu teaches Yoga to give people respite from their stressed lifestyles and equips them with socio-sciento-spiritual advancement tools. He incorporates his knowledge of Yogic philosophy, modern anatomy and physiology into his teachings. His teaching is clear, easy and comprehensible. To his students, he is always open to share his knowledge to the best of his abilities. Students can always pass on their queries to him, the solution to which is then and there available.
The word "Satya" means truth and "Narayan" is a name of one of the forms of God. Hence his name implies the same as God. Satyanarayan Jha is a young, enthusiastic, hard-working, talented inspiring youth into the field of Yoga. In his very early age he chanced to move to Rishikesh where he underwent several levels of experiences which enriched his faculty of patience and perseverance.
It was in these period of time, that he found himself in search of some tools that could make him understand life and its purpose. The answer that came to him was Yoga. As he was living in Rishikesh itself, he could find many opportunities to learn and grow into this vast field of knowledge. True to his natural talent and ability he got mastery over many popular trends of so called Yoga today such as flow, power, Vinyasa but deep inside he has always been searching the reality of life and its mystery. Facebook followers of his page can see his short and penetrative quotes that shine his depth of decency and understanding.
In academic education Satyanarayan completed his B.A. (Bachelor in Arts) from Bundelkhand University, U.P., India. He completed his YTTC 200 from Rishikesh to document his credential for Yoga Teaching. 
Further he has recently completed his Diploma in Yoga from Maharsi Mahesh Yogi Vedic University, M.P, India. These are some of his academic records apart from his natural flair into the science of life and its mysteries.
Furthermore, as he grew into his knowledge and experience, he taught Yoga at many Yoga schools in Rishikesh. He still teaches in Rishikesh and his classes are loved by people from all age group. In the year 2018, he chanced to visit Denmark where he conducted several Yoga Teaching workshop which brought to him international experience, acclaim and excellence. He is a naturally gifted into Hatha Yoga and his experience is enriching deeper into other branches of Yoga for his well-being as an individual and as a Yoga Teacher of decent strata.
Yoga Teacher (Founder At Your Awakening Space)
Danny (from the UK) found his calling much later in life, spending the first 25 years of his career working in London culminating in him becoming head of the department at what is now the world's largest insurance broker.
However, feeling unfulfilled and in great personal suffering he sought out answers and relief through the study of various modern esoteric modalities, as taught by people such as Dr Joe Dispenza. However, this opened Pandora's box to many experiences he was not able to understand, or in fact, be ready for.
This led him to seek knowledge of the forces behind these experiences and so started to study Kundalini yoga. After a few months working with a teacher in the UK it was clear he needed to increase his understanding further, so he travelled to Rishikesh in India to start his training in earnest. This is where Danny met Rohit Kumar and found many of his answers. This also resulted in him becoming a 500 hours RYT certified teacher.
Danny continued his thirst for knowledge leading a fairly nomadic life, living at various places around the world, including Buddhist centres and Ashrams, learning further from other modern day mystics including Ekhart Tolle (Power of Now) and Kim Eng, completing their first ever six month programme. He also studied under shaman and author Gregory Drambour, and attended various ceremonies in particular held by the esteemed Paje Sia Txan Hi Bai from the Huni Kuin.
He is also a qualified Pranic Healing practitioner and member of the Pranic Healing institute and maintains his continual studies.
Recently in order to translate the knowledge he has gained even more effectively, Danny qualified at a mastery level in NLP, Clinical Hypnotherapy and Transformational Coaching.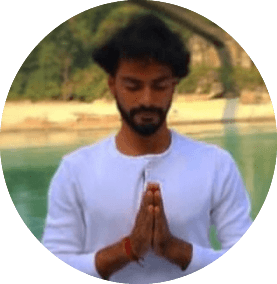 Pradeep Singh comes from Rishikesh, Uttarakhand. He is a very young and humble Yoga teacher. He is capable of performing difficult asanas in a very easy manner. Pradeep has done a bachelor in Arts. His inclination to Yoga was more dominant so he went for Yoga education. He completed a Yoga Course from Uttarakhand Sanskrit University and another 200 Hours Yoga Teacher Training.
He began his Yoga teaching. His experience of various styles of Yoga is very popular. Students like his classes very much as he exerts his best during the class. He trained students at Nomad Yoga – (May to Aug 2019), taught Hatha Yoga, Ashtanga Yoga and Vinyasa as a part of Yoga teacher training. He is still teaching at Aqua Terra Adventures (2014 till Present) conducting training for tourists on weekly basis. He trains also international clients and International School students conducting online training sessions since 2015 and has trained approximately 150 students in the last 5 years (the reference of which can be shared on request). His Yoga lessons consist of Hatha Yoga (for mental and physical well being), Ashtanga Yoga (for Stamina and body strength) and Vinyasa flow (connects breathing, movement and gaze – sight).
Kushagra Saxena is a versatile Yoga teacher. Since early childhood Yoga has been a part of his life. At an early age he received guidance and blessings from his grandparents and his Guru. This lesson from childhood guided him also in his later phase of life. Kushagra has a Bachelor and Masters degree in Yogic Science. He has a long teaching experience of Nath Yoga Tradition. According to the tradition he focuses on Hatha Yoga, Kundalini Yoga, Pranayama and Yoga Therapy. In his Yoga teachings he covers traditional as well as modern dimensions of Yogic science and philosophy about it. He is devoted to knowledge and understands the most sophisticated system in the universe; the human Body.
Thubten Dolma is a very experienced Yoga teacher. She is a Buddhist by birth and she has been practising Buddhism sincerely for a long time. She studied in many fields of education. She worked as a designer, stylist and assistant photographer but as a professional photographer she had a long career. She moved to the Netherlands and studied medicine for a decent livelihood. After the study, she started working as a pharmacist. She travelled to India to fulfil spiritual promises to her mother. Here in India, Yoga and Meditation became her interest. For several years She did different kinds of Yoga training like Hatha, Ashtanga, Yin, Kundalini, Meditation, Kriya, Chanting, Prayer, Kirtan and Rituals etc. and became a professional Yoga Teacher. In the long run, Thubten felt a need to express her knowledge and experience of Yoga. This intense feeling took the form of a multi-style Yoga teacher who currently lives and works in the Netherlands. She conducts various styles of Asana, Pranayama, Yoga Nidra, Meditation, Kirtan, Ritual classes and aspires to teach Yoga and meditation worldwide. In addition to all her works and skills, she is also an expert in Sound Healing.  She conducts sound healing sessions and courses worldwide.  
Yogi Himanshu Badhani comes from Nainital, Uttarakhand. He is fortunate to be born in the mystical land of the Himalayas. Since his early childhood he had interest in Yoga and spirituality. Therefore he studied Yoga from an early age and finally completed his M.A. (masters) into Yoga from P.N.G. GOVT. P.G. College Ramnagar, Uttarakhand. After his masters in Yoga he began to teach in Rishikesh. He has been teaching Yoga for more than 4 years at various schools in Rishikesh. His students come from all kinds of backgrounds. He has been teaching students of Yoga teacher training courses as well as of Yoga retreats. He is well trained in Classical Hatha Yoga asana, pranayama and relaxation methods of Yoga. 
He is very hard working and he also helps in managing various programs of Sanatana Yog Sandesh at Rishikesh and other parts of India. We are very happy to have him in our team.
Gagan Ji comes from Munger, Bihar. He has been very fortunate since his early childhood as he received blessings of Swami Satyananda who established the world famous Bihar School of Yoga in Munger, Bihar. His parents were devoted to the Swami and they used to spend a lot of time in the activities of the ashram. He completed his university education and started working in India and abroad. Most of his working life was spent in Thailand. He has travelled across the world and experienced various cultures, people and their way of living. He completed his Yoga teacher training course from Bihar School of Yoga and has taught Yoga across the globe. He currently lives in Japan and conducts various Yoga courses and workshops. He assists with Sanatana Yog Sandesh in the overseas courses and retreats. into teaching different courses and retreats.
Rahul Kumar comes from Bihar. Academically he has a master in Physics from a university in Bihar. After completing his study, he moved towards business and went through various experiences of life. Spending many years in this worldly life, Rahul shifted to Yoga for better health and peace of mind. He completed courses in Yoga and started practising Yoga regularly. Later he joined Sanatana Yog Sandesh and began to take part in various activities associated with the school. At present he works as a manager and manages different things including the IT department. He also takes part in teaching different courses and retreats.
Kamlesh Kumar  ji is the head of Department of English language and literature at G.D. College, Begusarai.  He has been the teacher of Rohit Kumar during his bachelor and master in the same college. Since childhood he has flair towards life and it's mysteries. His life has been blessed with various experiences. As a student, household, teacher, social thinker, spiritual seeker and overall a sensitive individual – his life is inspiration to everyone who comes across him. Spiritual life always fascinates him and he is every inch dedicated to the reflection and fulfilment of life.
Arjun ji was born and brought up in Begusarai, Bihar. He is a great soul. Right from his childhood days, he has been blessed with the direct discipleship of Baba Shantananda who initiated him into the secrets of Jnana Yoga.
This was just the beginning of him into this path. His master imparted him also the secrets of Hatha Yoga, which he excelled into in no time.
People have seen him into Shirsasana not for a minute or two but for minutes over an hour which to some of us might feel bizzare but when he was asked about it he said very politely, "science might disagree because it has its on logic but in Yoga when the centre of gravity has been experienced one hour in Shirsasana seems some moments. When asked, if he got tired ever during the practice, he said "come and see when I do". Very humbly and smilingly he says, "Yoga for fun, Yoga for health, Yoga for fitness: these are very good opinions. To me Yoga is me, I live only for this" This is his idea about Yoga. Academically Arjun ji is a  Master in Zoology  and received a P. G. diploma in Yoga. He has keen interest in the practices of Yoga and Spirituality.
As an individual he secretly kindles the light of Yoga within himself. He is a perfect example of an unattached household who is leading his life in this world as a lotus does in mud. Naresh Ji and Arjun ji stay together and work together for their spiritual growth and for universal plan.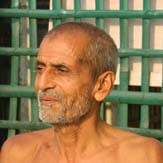 Sadhaka (Spiritual practitioner)
Naresh Ji, a direct and one of the closet disciples of Baba Shantananda, is a living example of a highly evolved state in 
Yogic
 life. Nevertheless, he always, is satisfied to be addressed as Sadhaka (Spiritual practitioner).
His journey into several walks of life right from his childhood is a very interesting story. Initially an active volunteer into labour politics, Naresh ji was one the most famous political activists.
Later he succumbed to fatal health situation that brought to him several question about life. It was during this time he chanced to come across Baba Shantananda who not only showed to him the way to health but also to the meaning and purpose of human life. It is a fairy's tale to hear how he met his master and received his grace. He says he is 70 years young.
His authority in the field of Jnana Yoga is unchallenged and honored. His presence, among the stalwarts of Sanatana Yog Sandesh is a blessing to this mission. He is the guiding force behind Rohit kumar. His experience is his knowledge and his silence is his teaching. Blessed are those who have chanced to be in his company. For more than 15 years Naresh Ji has tirelessly been guiding spiritual seekers from all parts of the world.